Corporate Social Responsibility in Europe
Improving patient outcomes individually and for population health is at the heart of our business. We support social and educational causes in Europe and beyond and we are grateful that our employees share our commitment. By taking part in these social impact activities they want to make a difference in people's lives. Below are a few examples of these activities.
Social initiatives in Europe and developing countries: "Little Hearts" (Kleine Herzen)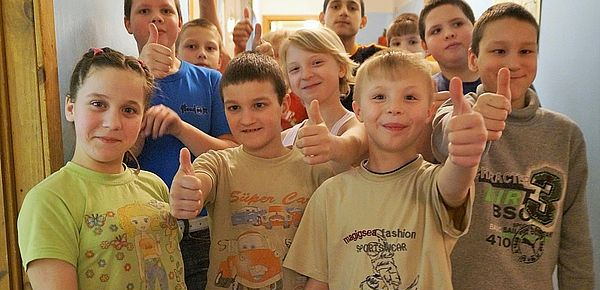 Many orphanages in Eastern Europe lack the funding to provide children with a loving home. This is the reason why we at Daiichi Sankyo have decided to support "Kleine Herzen" ("Little Hearts") as our social impact initiative on a Pan-European level. "Little Hearts" is dedicated to improving the quality of life for orphans transforming orphanages into family homes.
Education: Department of Pharmaceutical Sciences at the University of Munich
For the last six years we have presented outstanding graduates of Pharmaceutical Sciences at the University of Munich with the "Daiichi Sankyo Master Prize". Our goal: To support young promising talents and to promote research. Many previous award winners went on to pursue careers in pharmaceutical development and research.
Fundraising activities for domestic health charities
Daiichi Sankyo proactively participate in a variety of activities. For example, in August 2019, a team of Daiichi Sankyo UK staff and healthcare professionals rode from London to Paris, finishing at the ESC Congress. A grand total of £12,914.50 was raised for the British Heart Foundation.
COVID-19
As part of a global effort to combat COVID-19, Daiichi Sankyo is currently participating in research initiatives in Japan on vaccines for COVID-19.
Daiichi Sankyo also made a donation of $1 million to the COVID-19 Solidarity Response Fund for the World Health Organization (WHO).
The Big 3 Challenge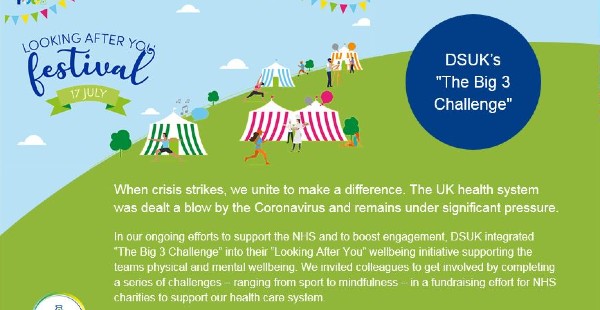 When crisis strikes, we unite to make a difference. The UK health system was dealt a blow by COVID-19 and remains under significant pressure.
In our ongoing efforts to support the NHS and to boost engagement, Daiichi Sankyo UK integrated
"The Big 3 Challenge" into their "Looking After You" wellbeing initiative supporting the team's physical and mental wellbeing. We invited colleagues to get involved by completing a series of challenges – ranging from sport to mindfulness – in a fundraising effort for NHS charities to support our healthcare system.
Environmental efforts
Reducing CO2 is part of our agenda. We pursue specific emission reduction targets for our manufacturing plants and for our research and development centres. Our plant in Pfaffenhofen is our green pioneer; the heating energy needed there is generated by a local biomass-fired combined heat and power plant.
In 2019 Daiichi Sankyo was recognised as a global leader for engaging its supply chain on climate change by CDP, an international non-profit organisation influential in the field of the environment.
In April 2019, we became the first Japanese pharmaceutical manufacturer to express support for the Task Force on Climate-related Financial Disclosure (TCFD), which was established to encourage companies to disclose information about the risks and opportunities presented by climate change in business activities.
Find out more about projects we support
DSC/20/0282 - November 2020